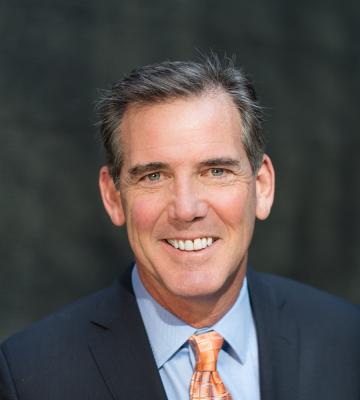 Agent License Number
CalBRE #01279582
Broker License Number
00746768
Property Type
Office
Land
Retail
Industrial
Hospitality
Specialty
Investment Disposition and Acquisition
Valuation and Advisory
Capital Markets
Executive Vice President, Brokerage
Fred Córdova is an urban commercial real estate investment sales and development expert with broad operational, transactional and developmental experience across multiple product lines including office, industrial, residential, hospitality and retail. He has purchased, sold, financed, developed, and leased more than $6.5 billion of real estate over his 34-year career. As an entrepreneur with extensive public company experience, he combines capital markets and institutional expertise with highly scalable physical property analytics as a creative "value-add" and repositioning strategist. He specializes in complicated, transformative transactions and connects investors, capital and properties to repurpose urban commercial real estate.
Career History
Executive Vice President, Kennedy Wilson, Properties Group (2013-Present) 
Executive Vice President, Colliers International (2002-2013): Co-leader of Los Angeles Investment Sales Team specializing in "value-added" acquisitions and dispositions. 
Western Regional Director of Colliers Asset Resolutions Team. 
Senior Director, Cushman Realty Corporation (1999-2002): Investment sales professional specializing in complicated, mixed use and "value-added" transactions. 
Homestead Village: Vice President of Development for Southern California in charge of hotel site acquisition/ development, Irvine, CA. 
Koo Koo Roo Enterprises: Executive Vice President of Real Estate for a $60,000,000 per year,  30-store, national restaurant operator, Santa Monica, CA. 
Santa Anita Realty: Vice President of Development, for $500,000,000 lifestyle center, Arcadia, CA. 
KB Homes: managed land acquisition and entitlement in San Francisco, CA, for over 1,000 homes 
CEO & Co-Founder of Córdova Chase Company: Developed, leased and sold over 100 buildings (±1 million SF) in Southern California including industrial, commercial, and retail properties.
Accomplishments
RECENT SALE TRANSACTIONS
| | | | | | | |
| --- | --- | --- | --- | --- | --- | --- |
| Property Name | Address | City | State | Sale Price | Type | Sq. Ft. |
| U.S. Bank Bldg. | 1420 Kettner Bl. | San Diego | CA |  $18,500,000  | Office | 111,000 |
| Doheny Eye Inst. | 1450 San Pablo St. | Los Angeles | CA |  $112,000,000  | Medical | 150,763 |
| Malibu Institute | 901 Encinal Cyn. Rd. | Malibu | CA |  $30,500,000  | Golf/Resort | 8,058,600 |
| 11th & Wilshire | 1101-15 Wilshire Bl. | Santa Monica | CA |  $16,000,000  | Mixed Use | 23,627 |
| The San Fernando | 400 S. Main St. | Los Angeles | CA |  $37,880,000  | Multifamily |  89,793  |
| Fred Segal | 8100 Melrose Ave. | W. Hollywood | CA |  $43,000,000  | Retail | 28,747 |
| Cotton Medical Ctr. | 50 Alessandro St. | Pasadena | CA |  $34,875,000  | Medical |  115,238  |
| Warner Atrium | 6400 Canoga Ave. | Warner Ctr. | CA |  $20,575,000  | Office |  128,839  |
| Walgreens | 4315 6th Ave. | Tacoma | WA |  $4,771,773  | Retail |  13,500  |
| Walgreens | 9505 Bridgeport Wy. | Lakewood | WA |  $4,455,000  | Retail |  13,500  |
| Walgreens | 1900 S. 6th Ave. | Tucson | AZ |  $2,820,000  | Retail |  13,500  |
| The Marketplace | 5601 Santa Monica | Los Angeles | CA |  $46,000,000  | Redev. |  236,531  |
| TCA Arshag School | 1200 N. Cahuenga | Los Angeles | CA |  $14,750,000  | School |  11,000  |
| Walgreens | 4100 White Ln. | Bakersfield | CA |  $1,575,000  | Retail |  13,500  |
| Westchester Dev.  | 8740 La Tijera | Los Angeles | CA |  $6,000,000  | Redev. |  24,131  |
| LAX Industrial Ctr. | 11120 S. Hindry Ave. | Los Angeles | CA |  $11,910,250  | Industrial |  65,749  |
| Seabridge Marina | 1601 S. Victoria Ave. | Oxnard | CA |  $19,000,000  | Retail |  64,818  |
| Bell Park | 4240 Bell Rd. | Phoenix | AZ |  $1,300,000  | Retail |  34,027  |
| AMS Self Storage | 3 properties | Various | CA |  $16,000,000  | Self Storage |  158,000  |
| Horne Plaza | 750 N. Gilbert Rd. | Gilbert | AZ |  $1,700,000  | Retail |  52,949  |
| Parkview Village | 500 Delaware St. | Kennewick | WA |  $3,750,000  | Residential | 35 Units |
| Bakersfield Office | 5080 California Ave. | Bakersfield | CA |  $13,900,000  | Office |  97,363  |
| Orchard Parkway | 3000 Orchard Pkwy. | San Jose | CA |  $39,750,000  | Office/R&D |  126,244  |
| Flat Rock Industrial | 4031 Flat Rock Dr. | Riverside | CA |  $2,478,960  | Industrial |  13,258  |
| Genesee Exec. Plaza | 9333 Genesee Ave. | San Diego | CA |  $46,620,136  | Office |  159,425  |
| Challenger Medical | S. 5th St. | Palmdale | CA |  $3,550,000  | Office |  58,920  |
| Juneau Dev. | Juneau Wy. | San Jose | CA |  $9,000,000  | Redev. |  304,920  |
| Melrose Shops | 7500 Melrose Ave. | Los Angeles | CA |  $8,100,000  | Retail |  15,978  |
Affiliations
HBS Alumni Association
International Council of Shopping Centers
Urban Land Institute
Jonathan Club
Education
M.B.A., Harvard Business School
B.A., Economics, Harvard College
CPA, California (Inactive)
Select Clients
| | | |
| --- | --- | --- |
| 3D Investments | Greenlaw Partners | Pacific Office Properties |
| Adler | Griffin Capital | PacShore Partners |
| AEW | Hall Equities | Phillips Edison |
| AMC Investments | Halualoa | Prologis |
| American Realty Advisors | Helios AMC | Province Group |
| Arden Realty | IDS Real Estate Advisors | Raintree Partners |
| Auerbach Realty | Invesco | Rising Realty |
| Barker Pacific | Jamison Properties | Sommerset |
| Birtcher Anderson Realty | KBS Realty Advisors | Spencer Scott |
| Bixby Land | Kearny Real Estate | State of California |
| BlackRock | Kennedy Wilson | Stockbridge  |
| BRE Properties | Kilroy Realty | TA Associates |
| C-III Capital Partners | L&B Realty | The Muller Company |
| Catellus | Legacy Partners | The Swig Company |
| CenterSquare | Lincoln Properties | Tishman Speyer |
| CIM Group | LNR | UBS |
| Colony Capital | Majestic Realty | Unilev Capital |
| Davenport | Meridian Properties | USAA Realty |
| DivcoWest | Morgan Stanley | US Bank |
| Doheny Eye Institute | MIG Capital | Walton Street |
| DRA Advisors | New Urban Properties | Watson Land Company |
| Emaar USA | Newcastle Partners | Wells REF |
| Fairfield Residential | Oak Tree Capital | Westbrook Properties |
| GE Capital | Ocean West Capital Partners | Westcore Properties |
| Gilmore Associates | One West Bank | Younan Properties |
| Goldstein Planting | Overton Moore | Zelman |